So this week's focus for Click of the Wild is "Tried and True". I knew exactly what it meant to me...How I interpreted "Tried and true". I just hope I can do it just justice with my words and the pictures explaining why I chose a couple of incredible people as this week's challenge.
You see, when I think of this phrase, my first thought is of a specific couple. These two people are salt of the earth people, as in the real deal! Who are they you might ask? Boots and Wade, my aunt and uncle. This loving couple is truly one of a kind, unlike any other. They are the epitome of southern charm and gentleness.
This day and time, it's rare to see marriages work; two people that stay together through thick and thin. But these two high school sweethearts have endured with true loyalty, and will celebrate their 65th wedding anniversary on December 11th. I share my birthday with their anniversary and when I was a child, we would invite them for supper, but many times they had plans and couldn't come. At the time, I didn't understand, but now as an adult I imagine that's why they've made it 65 years...They've put each other first, truly enjoying one another's company for as far back as I can remember.
Through the years when growing up, we celebrated Christmas and the love of our family in the living room of their home. Crystal glasses, and fine flatware adorned the tables where we enjoyed our annual Christmas dinner. Upon arriving, we were greeted with a warmth that will always be some of my fondest memories. They had a beautifully decorated home with all the traditional reminders of the season. Not a end table or wall was untouched. Christmas holly and silver bells were the embellishments throughout the walls of their classic 1920's home. During this this time of year, aunt Boots replaced every picture in her home with ones that matched the season. But even with all the glittery accents that was so welcoming, the warmth in their hugs are what I remember the most. Truly, the contentment of their smiles as they out stretched their arms in love, was a comfort that has been unmatched.
Entering the kitchen, you would find Aunt Boots adding crackers to the fruit and cheese table and Uncle Wade filling ice in the glasses. A German Chocolate cake would be displayed beautifully just waiting to be eaten by all the Helms kin. The Potato stuffing was certain to be "the best this year" acclaimed by specific family members that sincerely enjoyed our family's traditional Christmas meal. Then Uncle Wade would gather all of us around the kitchen to say grace. Grace...a prayer that truly came from his heart, one that sticks with me even until this very day. The humbleness in his words still touch me. Never a prayer was said without him asking our Lord to help us serve Him better through the nourishment we were getting ready to partake of. His words were real and sincere, not for show...Just a humble plea as a Christian man striving to do His will each and every day. I can remember at times, he would be so moved, that his voice would quiver with emotions of his plea. And that's who he is, a man of character, not ashamed to live with Christ leading his life.
Here is my final choice...These images truly represent their love and devotion!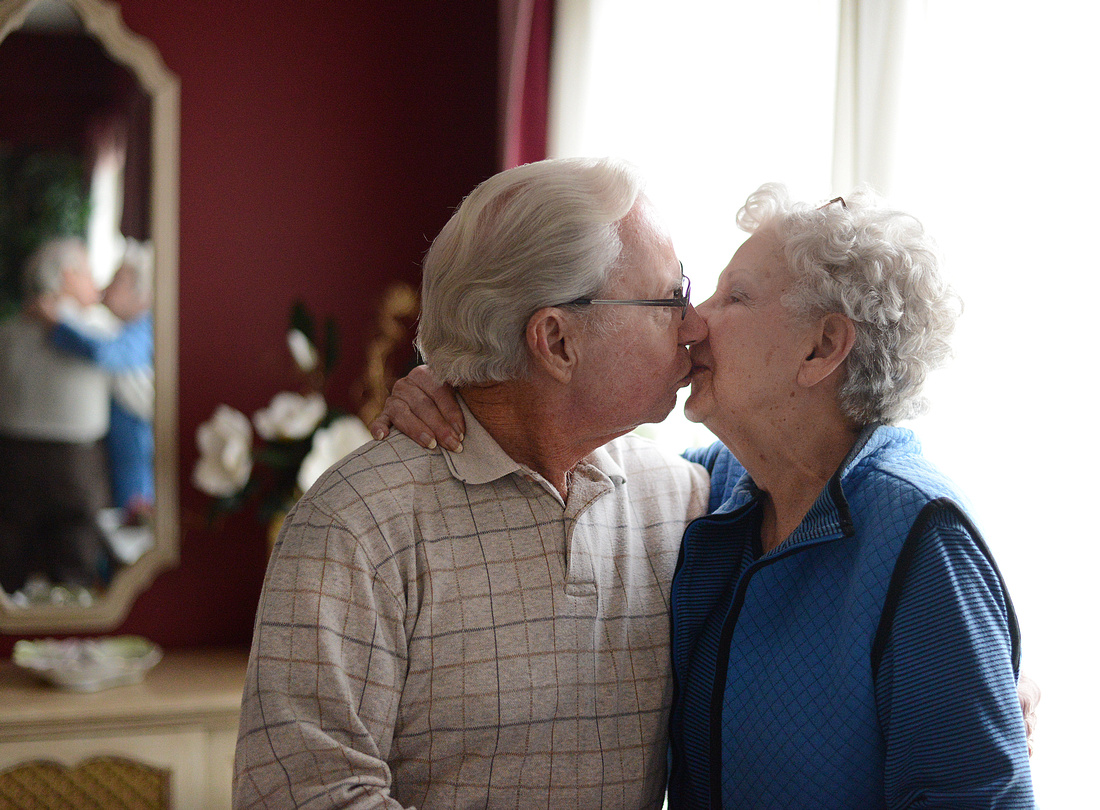 I had a hard time choosing which image to post for COTW, but these next few pictures were in the running as well.
Oh, that golden band...
There you have, two of the most genuine people you'll ever meet! Love you both!