I feel a little extra close to these two because I understand their desire to have a child but didn't realize just how long they've wanted their family to grow until Stacy told me in one of her emails. ..."We have been trying to become pregnant for 3 years with a few challenges, finally in February of this year we found out that we were pregnant. We were a little apprehensive but with a lot of faith and prayers we knew that things were going to be different this time. We are expecting our little miracle on October 23 and cannot wait to see all the things that God has in store for us and little Cooper!"
Stacy & Russ, I'm so happy for the both of you and can't wait to meet your little one. You both are such welcoming people to be around and I know you'll pass that trait down to your own children. You're going to make great parents! (That goes for you too, Russ) ;)
One of the nice things about custom photography is that each client is able to incorporate treasures that are meaningful to them, during their session. The night of our session, Stacy had brought along several special little items to help document this time for all of them. I love this aspect about her, she knows the meaning of making something memorable and I think she did just that, as you will see her own personal touch with her maternity pictures.
On the font porch there were all these rocking chairs. But Stacy told me that when she and Russ started dating, there wasn't enough rocking chairs for her so Russ found this one and engraved a special message just for her on the back. Before you know it, Baby Cooper will be climbing on this chair, wearing these little froggy rain boots!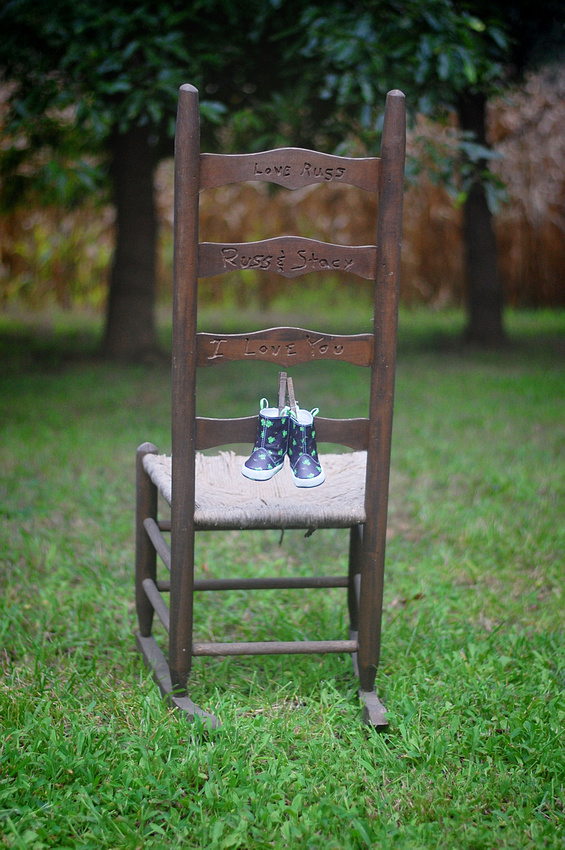 This next shot is taken next to a bench that Russ's grandmother owned. The blanket on the left is one that the same grandmother made for him many years ago when he was just a wee one. On the right, is the blanket that Cooper's great aunt stitched for him. Stacy also brought along these wooden letters spelling his name across the blankets that he'll soon be wrapped up in!
I imagine this will soon be one of his favorite places!
And my personal favorite is this next image!!! Love, love, love!
"A mother's joy begins when new life is stirring inside…
when a tiny heartbeat is heard for the very first time,
and a playful kick reminds her that she is never alone."
– Author Unknown
Thanks again Stacy and Russ for letting me capture this time for you!